Ultimate 60's Rock n' Beat Show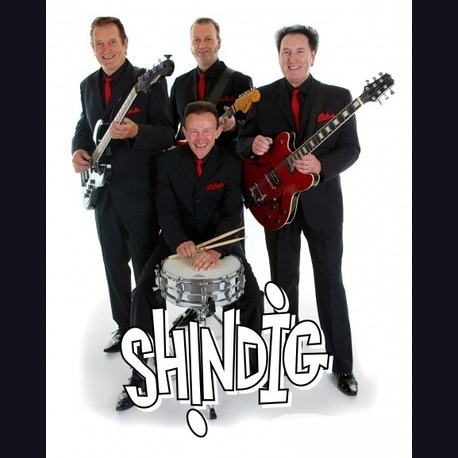 Come On And Dance With Me
Save The Last Dance
Instrumental
Shindig is a four piece Rock n'Beat band capturing that raw and exciting sound of the early British sound of the sixties. Their musical influences come from the great Cliff & The Shadows, Johnny Kidd & The Pirates, Billy Fury, and together with instrumentals from the likes of The Shadows and Ventures to name but a few.

Shindig's first engagement was to be part of a brand new Rock n' Roll theatre show called 'Bobby Socks & Blue Jeans' which featured Kytsun Wolfe as a front man vocalist to the likes of Marty Wilde, Billy J Kramer, Billy Fury, Cliff Richard and many more with three brilliant female vocalists each playing a part to the likes of Dusty Springfield, Connie Francis and Brenda Lee featuring a solo clarinet to Acker Bilks 'Stranger On The Shore'.

The first show that opened in April this year was a great success and more dates are squeduled for later in the year.

Shindig are at the moment in the process of booking shows for the coming year and later in October are doing a short tour of Holland where they are performing at a Jukebox fair over two days entitled 'Rock Around The Jukebox' - details can be found in the gig guide.

They have also just released their debut CD 'Introducing Shindig' and preparing for a busy time in the year ahead!
Shortlist
---
Price Guide
For an approximate quote, please enter your postcode:
Song List
Say Mamma
Do You Wanna Dance
Please Dont Tease
Move It
Nothin Shakin
Halfway To Paradise
1000 Stars
Once Upon A Dream
Peggy Sue
Its So Easy
Matchbox
Picture Of You
Somertime Blues
Cmon Everybody
Sea Cruise
Nine Times Out Of Ten
Apron Strings
Big Hunk Of Love
Do You Really Love Me Too (fools
Errand)
Running Around
Carol
Maybelline
Pretend
Singing The Blues
Oh Boy
Brand New Cadallac
Shakin All Over Em
Summertime Blues
Teenager In Love
That'll Be The Day
Twenty Flight Rock
Walk In The Room
Mary Lou
Honey Dont
I Can Tell
Little Sister
Route 66
Runaway
Rave On
Please Dont Touch
One Hand Loose
Love Potion Number
Little Queenie
Little Pig
Feeling
Lindy Lou
Rockin Daddy
Oakie Boogie
Still I Cry
And Many More!
Previous Clients
Rock Around The Jukebox
Rosmalen, Holland
Kytsun Wolfe
Bobby Socks & Blue Jeans
Rock N Roll Theatre Show
Fry Club & Conference Centre, Somerdale, Keynsham, Bristol
Paul Barrett Rock N Roll Enterprises Bourne Leisure
Sue Colbeck For Warner Leisure Resorts
Louise & Dale Gardner
And Many More!
Testimonials
Great performance! Also like your first CD very much! Hope you're selling a lot, it's worth every penny or euro ;-) )
- Ton van den Oever

It truely was a great performance and i told you so. your drum solo stood like a rock. see you in a couple of hours to make a new fantastick performance. oh yeah jeff, its not quite lady stagemixer
but just gerda ;-) hahaha oscar (my "hubby") is training me
- Gerda van Roon

'They know how to work up a party atmosphere from the first number. I know from having witnessed them in action quite a few times! They pack the dance floor and have the rest of the audience tapping their feet or fingers - or both!'
- Ralph Gowling

Shindig played at my wedding in June 2012. They filled the floor instantly and kept everyone on the dance floor until
late that night. A fantastic band that really know how to work an audience and give a 100% performance
- Louise Gardner
Set Formats
Shindig Offer:

1 x 60 Minute Set
Or
2 x 45 Minute Sets