50's 60's Rock'n'Roll Band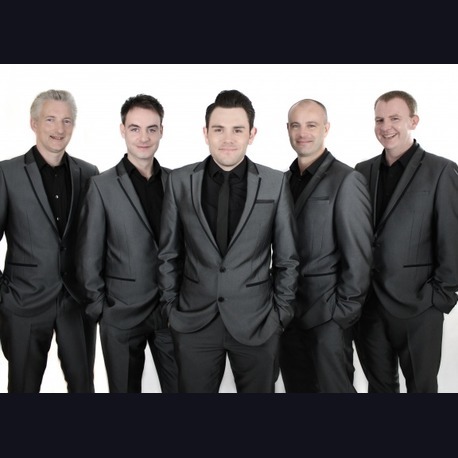 Rock N Roll Ruby
Flip Flop Fly
Rock N Roll Medley
Joey & the Jivers celebrate 10 years of Working the U.K & Europe, Entertaining audiences where ever they Play.

They cover all aspects of Rock'n'Roll, Whether it be Jive, Boogie Woogie, Commercial or Cabaret.

The Band consists of five distinguished Musicians, All the ingredients needed to create that authentic sound and show.

With acclaimed appearances on the rock n roll circuit, and despite his youthful 33 years, Joe has captivated audiences up and down the country for some time now with his electrifying piano playing . Joe does his own solo work as well, playing high profile events and venues as well as working in the clubs, hotels, holiday camps, cabaret, and private functions. He also has a fine, trained voice, and he writes and records music for both personal and commercial ventures. But, Joe is at his best when fronting his new band, Joey & the Jivers, belting out all the hits of the 50s and 60s, and earning his well-deserved reputation for being a young talented pianist.

Saxophone, Steve's Sax playing takes the sound further towards that authentic ideal. Starting his playing career very young, Steve has knotched up some considerable experience with The Over The Hill Mob, Then on to set up one of the most successful bands(Blueberry Hill) on the I.O.W, And has cut his professional teeth on the rock and roll circuit.( Watch out for "Tequila" )

On lead guitar, the band can boast one of the best rock n roll/blues player on the Isle of Wight, having recently moved to the Island from London, Sean brought with him the sounds and riffs of the Islington and Camden blues and rock n roll scene. Sean has been busy for the past three years playing hotels, clubs and pubs on the Island, and has a personal contact list with members of the pop community that is impressive.

On Bass guitar, is rock-steady Eddie himself, Steve. This man knows his scales and enjoys nothing more than bridging the rhythm section with the melody-men using his customary laid back style. Steve has been busy playing around the Island with Sean and has enjoyed a very busy schedule. He now wants to concentrate more with the band.

Joe R has been playing drums with The Jivers since 2009 - his first foray into the Rock 'n Roll scene. He played his first gig at the age of 12, just two weeks after taking his first drum lesson. Since then, he has gone on to play drums, percussion and keyboard (not often at the same time, thankfully!) in over 100 different theatrical productions, the highlight being playing drums for the legendary Ray Davies on his musical, 'Come Dancing'. In 2004, he broke the Guiness Drum Marathon World Record, playing drums continuously for 51 hours and 4 minutes - you didn't want to be living next door that weekend!

What makes these Guys stand out from the rest is "Joey" Pounding those Keys as a true front man also performing his "trick" during the night, Not forgetting "Stevie C" Roaring his sax to classics such as "Tequila" "Peter Gunn" & "Midnighter" with the rest of the gang!
Shortlist
---
Price Guide
For an approximate quote, please enter your postcode:
Song List
Hey Good Lookin
Break Up
Old Black Joe
Drinkin Wine Spo-dee-o-dee
Slow Down
Shim Sham Shimmie
Tequila
All Night Long
You Win Again
Rockin Daddy
R.o.c.k
Oh Boy
Hot Dog
Matchbox
Mystery Train
Thatll Be The Day
Razzle Dazzle
Hello Mary Lou
Keep A Knockin
Foot Tapper
Blueberry Hill
Sea Cruise
Breathless
Dont Be Cruel
My Blue Heaven
You Never Can Tell
Flip Flop &
Fly
Blue Suede Shoes
World Alive
Cheatin Heart
Browneyed Handsome Man
Im On Fire
Thatll Be The Day
Walk Of Life
Whole Lotta Shakin
Hello Mary Lou
Browneyed Girl
Midnight Hour
Mustang Sally
Diana
Peter Gunn
Bad Moon Rising
Move It
Hey Baby
Johhnny B Goode
Teenager In Love
Rock Around The Clock
Everbody Needs Somebody
Pretty Woman
Great Balls Of Fire
Burning Love
Sweet Caroline
Under The Moon Of Love
Dance The Night Away
Summertime Blues
I Love To Boogie/rockin Robin
Shake Rattle & Roll
I Saw Her Standing There
Roll Over Beethoven
Blue Suede Shoes/hound Dog
Tequila
Marie Marie
Its Not Unusual
Crocodile Rock
Im A Believer
Amarillo
Deliah
Celebration
Disco Inferno
Hi Ho Silver Lining
Spirit In The Sky
Love Train
Twist & Shout
Help Yourself
Daydream Believer
American Trilogy
The Wonder Of You
Down The Line (f)
Low Down Dog
Sleepwalk
I Knew The Bride
Hot Dog Buddy Buddy
Roll Over Beethoven
Marie, Marie
Rocknroll Ruby
Bony Moro
Highschool Confidential
Down The Road Apiece
Lucille
See Ya Later Aligator
Jambalaya
Boogie Woogie Country Girl
Shakin Mother For Ya
Honey Hush
Hey Jude
Route 66
Twist Again
Ring Of Fire
Shake Ya Tail Feather
Folsom Prison Blues
Aint Nobody Here But Us Chickens
End Of The Road
Chicken Shack Boogie
Something
And Many More!
Previous Clients
Warner Hotels
2012 London Olympics Sailing Event
Cowes Week Worlds Biggest Yachting Event
Yesterday Once More
Themed Weekender's (pontins & Europe)
Rock'n'roll Clubs Worldwide
Artistes Worked With:
Charlie Gracie (butterfly)
Clem Curtis (foundations)
Marc Robinson (buddy Holly)
Chas & Dave
Jimmy Cricket
Lee Jackson (elvis)
George Mccrae (rock Your Baby)
Craig Douglas (only Sixteen)
The Bachelors (i Believe)
Marty Wilde"(teenager In Love)
And Many More!
Testimonials
"A couple of years ago authentic rock and roll band Joey & the Jivers played Showcall, then as four piece. This time around they had added some sax appeal in the form of Steve, whom they are quoted as being chuffed to bits to have with them, as they should be. Impressive last time, this was perhaps even better. Lead man Joey almost committed GBH on the keyboards in a way that Jerry Lee Lewis would have very much approved of. Seeing fine musicians in full flow, working up a sweat and putting everything into a set. Bands dont come much better than these guys and girl."
- "The Stage" - Oct 2006

"A hot evening of rocking music in more ways than one at the Bournemouth south coasts monthly gig at Kinson CC. It was a full house, with a good contingent from Portsmouth. It was the wizards from the Isle of Wight, Joey and the Jivers who took to the stage to provide live music. They played two storming sets, opening with Flip Flop and Fly, with dancers crowding the floor for Whole Lotta Shakin Goin On and Low Down Dog. Hot Dog and Rockin Daddy got the Jivers going in a blistering second set with Down the Line adding fuel to the fire. Nobody wanted to stop, and it took three encores and a standing ovation with Marie Marie ending it all."
- "Dave The Rave: UK Rock Magazine" - Jul 2006

"Joey and the Jivers made another south coast appearance, When they played Gosport in the spring, With two swinging sets. Dancers jived to classics including: Sea Cruise, Breathless, Honey Dont and R.o.c.k. The sound balance was spot on, not too loud with each instrument clearly heard. Their versions of Down the Road Apiece and Shim Sham Shimmy made full use of the Piano Pounding leader."
- "Dave The Rave: UK Rock Magazine" - Mar 2006

"Being the first act at the first session on the Monday is always a tough gig. That didnt worry four-piece authentic band Joey & The Jivers as they livened up the room with some great rocknroll, their impressive frenetic piano vocalist even indulging in some Jerry Lee Lewis-style antics to Great Balls of Fire. The notes hit on both the keys and guitars were immaculate, the musicianship faultless and as such, this was the perfect opener."
- "The Stage" - Nov 2004

"Rock 'n Roll fans met at the Community Centre to dance the night away to Joey and the Jivers for a 50s Rock 'n' Roll Special. A fantastic night was had by all and the band did not disappoint their many followers from far (Cardiff and maybe further) and near. A Big Special Thanks to "Joey & the Jivers" from "The Bonfire Boys"
- "Bonfire Boys: Titchfield" - May 2008
Set Formats
Joey & The Jivers Offers:

1 x 60 Minute Set
Or
2 x 45 Minute Sets