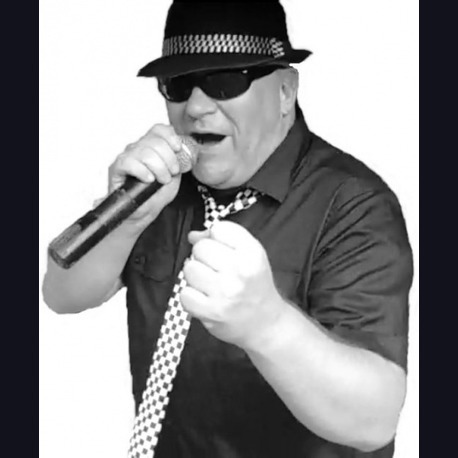 Lip Up Fatty
Our House
Special Brew
SKA HEAD is a one man show dedicated to some of the greatest Ska bands that ever lived and are still performing today, The show will take you back to that era of music which controlled the rhythm of your feet and dominated the streets of Great Britain!!

The show includes hits by the likes of Bad Manners, Madness, The Specials, and The Beat just to mention a few and will have your dance floor stomping. This music is irresistible and you cannot deny that is music that will fill your event with energy and a great feeling throughout the night.

The show also includes a tip of the pork pie hat to the roots of Ska by including hits from reggae artists such a Desmond Dekker, Jimmy Cliffe and of course Bob Marley. SKA HEAD also takes you beyond the era to where Ska is at today by including modern Ska influenced acts such as Smashmouth, Mighty Mighty Bosstones and Rancid.

SKA HEAD offers you an affordable true party atmosphere giving you a big sound without the expense of a full Ska band and can cater for all Social events, holiday parks, scooter events, weddings and any other kind of function or venue you care to think of.

The show is fully self contained and carries state of the art sound and lighting systems, backdrops and smoke machines.
Shortlist
---
Price Guide
For an approximate quote, please enter your postcode:
Song List
Baggy Trousers - Madness
The Can Can - Bad Manners
Cant Get Used To Loosing You - The Beat
Cardiac Arrest - Madness
Driving In My Car - Madness
Embarrassment - Madness
Enjoy Yourself - The Specials
Gangsters - The Specials
Ghost Town - The Specials
Hands Off Shes Mine - The Beat
Hey Little Girl - Bad Manners
House Of Fun - Madness
Im In The Mood For Love - Jools Holland
Night Boat To Cairo - Madness
Is This Love - Bob Marley
It Must Be Love - Madness
Lip Up Fatty - Bad Manners
Lorraine - Bad Manners
Mirror In The Bathroom - The Beat
My Girl Lollipop - Bad Manners
My Girl - Madness
On My Radio - The Selector
Our House - Madness
Poison Ivy - The Lambrettas
Rat Race The Specials
Rudy, A Message To You - The Specials
Shut Up - Madness
Special Brew - Bad Manners
Tears Of A Clown - The Beat
The Harder They Come - Jimmy Cliff
The Impression That I Get - Mighty Mighty Bosstones
Three Little Birds - Bob Marley
Time Bomb - Rancid
Too Much Too Young - The Specials
Walking On The Sun - Smashmouth
Why Cant We Be Friends - Smashmouth
Wings Of A Dove - Madness
Wooly Bully - Bad Manners
You Can Get It If You Really Want -jimmy Cliff
And Many More!
Previous Clients
Ab Graphics International
Royal Armouries
Martin House
The Press Association
Cancer Research Uk
Tesco
Yorkshire Air Ambulance
Help For Heroes
Raf
The Army
The Royal Artillery
The Round Table
Belvedere Golf Club
And Many More!
Testimonials
Everyone, without exception, thoroughly enjoyed themselves and you were exactly what we were looking for to inject some real fun and energy into the event
- Helene Stone - Martin House

It was like being back at the school disco all over again!
- Emma And Nathan Long Wedding Clients

Thank you for the wonderful entertainment you provided for our wedding reception. We've had loads of feedback from our guests, commenting how great you were all evening, as a matter of fact, you WERE the evening."
- Nikki & Dave - Wedding Clients

A 90 minute non stop nostalgia roller coaster ride
- Graham Hollings East Leeds Lions Festival Organiser

I wasnt sure how I would find a one man ska show but it was beyond all my expectations. It was nice to hear songs most bands dont play and your onstage energy is infectious
- Dave Kirkham AB Graphics International

Hi SJE
I am writing on behalf of myself and the Lady Captain of Leeds Golf Club to thank SkaMan (Frank Martin) for the wonderful entertainment that he provided Saturday 17th March.

His performance was impeccable and everybody who attended said how much they enjoyed the evening and that they would like for him to come back to our club for New Years Eve, unfortunately he advised that he had already had a booking for then.

Bearing in mind that he stepped into the breach and the heavy snow fall we had that evening and night he never ever faltered in his performance.

I and the members of Leeds Golf Club would not hesitate in providing a reference should one ever be required.

Thank you for your kind attention.
Regards,
Dave Surtees
2018 Captain Leeds Golf Club
Set Formats
Skahead Offers:

1 x 60 Minute Set
Or
2 x 45 Minute Sets
Or
3 x 40 Minute Sets