The UKs Leading Ska/2-Tone Tribute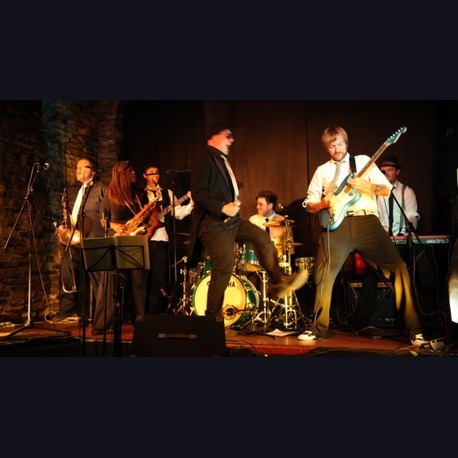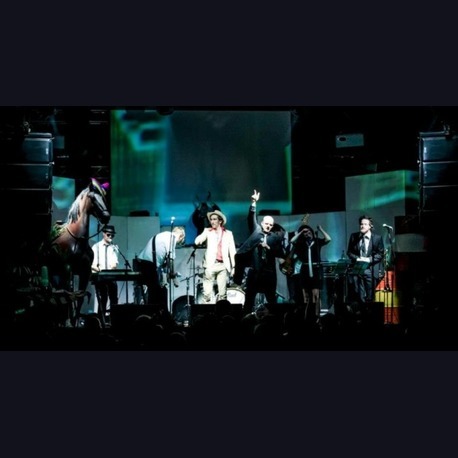 Too Much Too Young Live
Baggy Trousers
Monkey Man
Ska Wars is an established 6 piece band of fun loving musicians whove been playing the national circuit for over 15 years, performing hundreds of shows for pubs and clubs, corporate events, weddings, birthdays and national festivals.

With a charismatic front-man and energetic band, Ska Wars always gets the audience dancing to the 2-tone classics of the Specials, Madness, Bad Manners and the Selector, and more...

Ska Wars standard Madness line-up consists of drum kit, bass, guitar, keyboards, tenor sax, lead and backing vocals. The deluxe 'Specials' line up includes an extra brass player, and/or extra lead vocals.

Ska Wars is happy to negotiate on size of the band, number of sets, and song requests. Typical performances are 2 x 45 minute sets or 1 x 60min set. All musical aspects for events are catered for including music playlists, full PA and lighting.

Over the years weve supported artists such as: The Selector; Aswad; Geno Washington; Jools Holland with Rico Rodriguez (The Specials); Chaz and Dave; Bill Bailey.
Shortlist
---
Price Guide
For an approximate quote, please enter your postcode:
Song List
A Message To You Rudi (the Specials Version)
Baggy Trousers (madness)
Chase The Devil (max Romeo And The Upsetters)
Cant Take My Eyes Off You (bad Manners Version)
Enjoy Yourself (the Specials Version)
Fatty Fatty (bad Manners)
Gangsters (the Specials Version)
Ghost Town (the Specials)
Guns Of Navarone (the Skatalites)
The Harder They Come (jimmy Cliff)
House Of Fun (madness)
Israelites (desmond Dekker)
It Must Be Love (madness)
Lip Up Fatty (bad Manners)
Little Bitch (the Specials)
Liquidator (harry J All Stars)
Longshot Kick De Bucket (the Pioneers)
Louie Louie (toots And The Maytals Version)
Madness (madness)
Mirror In Bathroom (the Beat)
Monkey Man (the Specials Version)
My Girl (madness)
Nightboat To Cairo (madness)
Nite Klub (the Specials)
No Woman No Cry (bob Marley)
On My Radio (the Selecter)
One Step Beyond (madness)
Pressure Drop (toots And The Maytals)
Ska Wars Theme (ska Wars/john Williams/lucasfilm)
Pass The Duchie (musical Youth Yes, We Know)
Shame And Scandal (peter Tosh)
Skinhead Moonstomp (symarip)
Special Brew (bad Manners)
Tears Of A Clown (the Beats Version)
The Death March (ska Wars/john Williams/lucasfilm)
Three Little Birds (bob Marley)
Too Much Pressure (the Selecter)
Too Much Too Young (the Specials)
You Can Get It If You Really Want (jimmy Cliff)
54 46 (toots And The Maytals)
2001: A Space Odyssey (ska Wars/richard Strauss/stanley Kubrick)
And Many More!
Testimonials
Pure class high energy entertainment and the band looked like they were enjoying it as much as audience. Id love to pay to see you boys do a full live set. Get your [posteriors] down to Liverpool soon
- Tommy Mathew Street Festival, Liverpool

Nice one guys Once again, Ska Wars were superb, highlight of the day
- Sue Owens Mathew Street Festival, Liverpool

Thanks for a brilliant night last night, everybody said how much they enjoyed themselves. Hope its not too long before i can go to another of your gigs. Thanks you were well worth it.
- Mick Neary Huddersfield

You are awesome! Great night. You should come back and play another date. Take care and best of luck in the future!
- Thomas Evrenos The Pipeline Bar, London

Totally awesome guys thank you, thank you !!!
- Cricketers Arms, Holmfirth Crickstock Music Festival

Just been ska warsed! What an event x
- Vanda Hinchliffe Crickstock Music Festival

Dear Ska Wars,
Thankyou so much for playing at our wedding. You got the whole place STOMPING! Everybody loved it, I danced so much I got sweaty knees!
- Mr and Mrs James Near Crewkerne, Somerset

Once again, an awesome gig last night guys. Well and truly skanked out this morning!! Cheers!
- Jim Holmfirth

Thank you for a fantastic night on 25th Sept when you played at my 50th birthday bash. Everyone who attended thought you were absolutely fantastic and thoroughly enjoyed the night. Your patience with the club, who were beyond belief with their lets try and spoil the night and stop people enjoying themselves attitude was amazing and professional to the end. You made 200 people very happy and put on a wonderful show. Please do not hesitate to give my name to anyone who wants a testimonial as I would be more than happy to recommend you, a few people have taken your number and I hope you get some more gigs as you truly deserve them. Thanks again for a rocking evening.
- Mary Woking

definitely the best band there highlight of the weekend!
- Jade Hewishstock, Somerset

They were fantastic. Having booked quite a few bands for parties over the years they were the best we have ever had. Their enthusiasm and great music ensured a full dance floor from the first song until they finished 2 hours later. They provided perfect music for a diverse group of 30-50 year olds dressed as large insects! We have dozens of thank you letters all praising the great band. I would heartily recommend them to anyone organizing a party and wanting to get something that provides a whole lot more raucous fun than the ubiquitous bespangled cool funk on offer elsewhere. To top it all they were all extremely nice people!
- Ned Newbury, Berks

It was a brilliant night and the band were awesome my crowd of family and friends arent especially noted for their dancing, so to get everyone in the party mood so early on was a real triumph, and Ive heard nothing but praise from all the guests about how good you were. Please pass our thanks on once again to everyone involved Dave especially, as he was great with the kids, and no-one could believe he was a stand-in. Youll have to tell Bob to watch out! :-). If you ever need a reference, you know where to come the whole booking, set-up and exit was handled in an exemplary manner as well, and really contributed to the low stress levels of the evening. Thank you all so much!
- Alex Fry Whitchurch, Shropshire

Theres nothing like a good bit of ska to get a festival started, and main-stage openers Ska Wars really know what a good bit of ska is. Resplendent in two-tone and a kilt no less (on Trumpet Player Nick Huge), Ska Wars look the part as well as sounding it. Once wed got the expected nod to Lucasfilm (well what would you expect from Skarth Vader and Ska-2-d-2?) Ska Wars really took off. Good old school ska with all the trimmings (the influence of Madness and The Specials shining through), which was performed quite frankly masterfully. I couldnt see a person within 100 yards not skanking. After a blinding set, front man Bobba Fat left the stage after addressing the crowd pontifical style: bless you, bless you, and went to a galaxy far, far away.
- Guilfest - main stage review

Could you please thank all the guys for a wonderful night. Music is all about passion and enthusiasm and you lot had it in bucket loads, and it really comes across .Everyone commented how good you all were and it wouldnt surprise Me if you pick up a few more bookings from the people who where there. Hope you all enjoyed it and hope to see you again sometime. All the best
- John & Gilly Glossop
Set Formats
Ska Wars Offer:

1 x 75 Minute Set
Or
2 x 45 Minute Sets