British Prime-Timed Televised Lady Gaga Tribute/Impersonator/Lookalike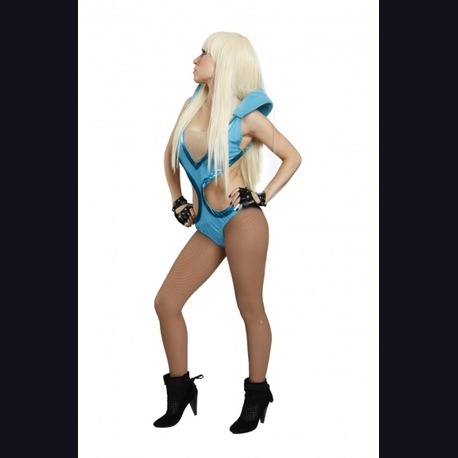 Bad Romance
Poker Face
Telephone
Cat Winter is Lady Gogo. The most unique Lady Gaga act yet. The only endorsed Lady Gaga lookalike to be a full tribute, so its as near to having the Lady herself! - Lady Gogo has appeared on ITV1s Harry Hills TV Burp and BBC3s lookalike special of Snog Marry Avoid, as well as featuring in Alison Jacksons (U.K.s No# celebrity lookalike photographer) royal wedding book, Wills and Kate -Up the aisle, Closer magazine, U.S. gossip magazine Life & Style and The Daily Star.

Cat, an Essex based pro singer/songwriter of 9 years, with a music degree, has a diverse musical background, from singing in metal bands, through to jazz big bands! Just like Gaga, she loves to get her audience rocking with evocative and dynamic performances of powerful hits such as Bad Romance and Judas, as well as reaching out to the crowd with the singer-songwriter majestic anthems of Edge of glory and Speechless. Cat has injected her years of musicianship and stage craft, from having worked in major hotel chains and on-board ships, into her Gaga show, along with her natural creativity.

Authentic Gaga choreography is incorporated, as well as the amazing replica costumes and weird and wonderful props, such as the Grammys flesh latex costume on the emergence from the egg to the gothic, insect-like Alejandro gasmask!

With in-ear radio monitoring, Lady Gogo can go anywhere in the audience, interacting with her little monsters and getting everyone up to just dance! Shows are tailor made to the client, with options of a 45 min set, one hour, or two 45s. Cat can also combine Gaga with her Pop Princesses show of current female artists such as Pink, Rhianna, Jessie J and Cheryl Cole, as well as the option of pairing it with her Katy Perry or Kylie tribute (45 min show). Lady Gogo can come fully self-contained, including pro lights.

Lady Gogo has also added the option of incorporating Gagas credited influences into her show featuring Madonna, Prince and even Queen it has, after all been noted that she got her name from her likeness in showmanship to the late, great, Freddie Mercury. The sight of hundreds of people in unison, arms in the air, clapping to Radio Gaga a la Lady Gaga style of course, is one to behold!!

So the lowdown on Lady Gogo is this is the most unique Lady Gaga tribute yet she is a lookalike, a sound-a-like even her movements and mannerisms are the same people will believe it IS Lady Gaga until you tell them otherwise that is!!
Shortlist
---
Price Guide
For an approximate quote, please enter your postcode:
Song List
Just Dance
Poker Face
Lovegame
Paparazzi
Fame
Like It Rough
Boys Boys Boys
Summer Boy
Disco Heaven
Money Honey
Alejandro
Bad Romance
Telephone
Monster
Dance In The Dark
Speechless
Born This Way
Judas
Edge Of Glory
Hair
You & I
Marry The Night
Kiss (prince)
Madonna Megamix Vogue/borderline/holiday/lucky Star/into The Groove/vogue
Radio Gaga (queen)
And Many More!
Previous Clients
ITV1
BBC3
Alison Jackson
Closer
Life & Style
The Daily Star
Thomson
Brittany Ferries
Toured Majorca For 7 Months, 7 Nights A Week, Inc Thomson Hotels , Outdoor Venues & Bars/nightclubs
Warner Hotels/bourne Leisure
Oxford University - Queerfest
Lynnroys Tribute Venue
Panache Nightclubs
Model T Functions
Penn Central
Various Pubs/clubs/bars Throughout The Uk
And Many More!
Testimonials
Oh my god, you ARE Gaga, I have to have a pic taken with you to send to my friend, whos Lady Gagas make-up artist.
- Jenny Frost of Atomic Kitten

Wow, its uncanny, you have all her mannerisms and everything...unbelievable.
- Rebecca Saponiere, Casting Agent for BBC3

You are so tiny, just like Gagathe spit of heryou are a very special tribute to have achieved what you have.
- Alison Smith Squire, freelance journalist for Closer magazine

Youre costumes are amazingthe attention to detail is incredibleyou certainly put a lot of work into what you do.
- Tim Mossford, photographer for The Daily Star

Thank you so much, that was amazing, they loved every minute of it was perfect.
- Organisers of Queerfest, Oxford University

Now thats what I call a showyou made our New Years Eve great, we couldnt have asked for anything more, youre going to be back here, no doubt about it!
- Roy, Manager of Lynnroys Tribute Venue

That was brilliant, weve had nothing but good feedback all night, they love itwill you come back and do your Katy Perryyou can pull anything off!
- Kelly Regan, Panache, Bristol premier nightclub
Set Format
Lady Gogo Offers:

1 x 60 Minute Set
Or
2 x 45 minutes -
Gaga intermixed with influences such Madonna/Queen/Blondie
Or
2 x 45 minutes - one set purely Gaga, 2nd set Pop Princesses show, inc the likes of Rhianna, Jessie J, Cheryl Cole, Katy Perry

Additional Information

Lady Gogo is Essex based but will travel anywhere in the UK and internationally, provided flights/accommodation covered. Cat has full Public Liability insurance/cover of 1 million, covering both UK and Europe.

Equipment

Sennheiser radio head mic
Sennheiser radio hand mic
Shure in-ear radio monitoring
Roland Vocal Processor
1000W PA rig, inc powered mixer, 2 x 15 speakers, stands, leads etc (suitable for up to med sized venues 200-300 people)
Sony mini-disc rack player/recorder
Samsung notebook
Equinox microbar lighting rig