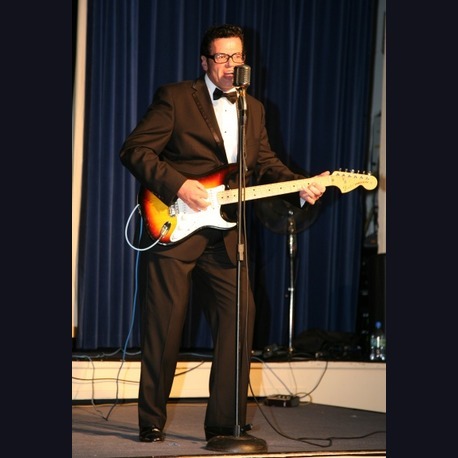 Tell Me How Memory Lane
Wishing
Loves Made A Fool Of You
Award winning guitar vocalist Tony Davey presents An Evening With Buddy Holly. Voted Europe's No 1 Buddy Holly Tribute 2011, Tony has the looks, sound & charisma of 'The Music'.

The legendary hits of Buddy Holly, Peggy Sue, That'll Be the Day, Oh Boy, Rave on Heartbeat, Maybe Baby True Love Ways, Peggy Sue Got Married, Bo Diddley, Brown Eyed Handsome Man, the list is endless. Tony Davey's Tribute to the legendary Buddy Holly has unique links or connections to other 50's nostalgia, which sets this show apart as a tribute to the Kings of Rock N Roll.

An evening which is available fully self contained with costume changes, sound to light system and a 1.25Kw PA. Alternatively if you prefer live music Tony can be booked with his four piece tribute band Memory Lane.
Shortlist
---
Price Guide
For an approximate quote, please enter your postcode:
Song List
Heartbeat
Peggy Sue Got Married
Maybe Baby
Blue Days Black Nights
Oh Boy
Its So Easy
Not Fade Away
Bo Diddley
Think It Over
Raining In My Heart
Slipping And Sliding
Labamba
Sleepwalk
Everyday
Listen To Me
Wishing
Thatll Be The Day
Rave On
It Doesnt Matter Anymore
Peggy Sue
True Love Ways
Rocking With Olla Vee
Any Many More!
Previous Clients
Royal Hotel Grimsby
The Co-op Social Club Doncaster
The Blues Club Gainsboro
Cottingham Golf Club
The Royal Hotel Scunthorpe
Dene Park Sports Club Hull
The Boat Club Withernsea
The Elizabeth Hotel Ferriby
And Many More!
Testimonials
Now thats what I call entertainment
- The Blues Club Gainsboro

Norbrech Castle April 2011 A worthy winner of Europes No 1 Buddy Holly Tribute Artist.
- Fox Enterprises

You did us proud again fantastic night thank you very much golf captains ball June 2011.
- Cottingham Golf Club

Hi Tony thanks for helping to make my wedding anniversary a night to remember great show thanks.
- The Kingston Social Club July 2011

Absolutely fantastic night you certainly filled the dance floor.
- The Co-op Social Club September 2011

You guys were fantastic you did something for everyone and kept the dance floor full all night thank you so much.
- The Withernsea Boat Club, September 2011

What a great night you Buddy Holly Tribute Was Brilliant.
- Royal Hotel Grimsby December 2011

What a night everyone has had a great time thank you very much we will rebook you in the New Year.
- Gilson Hotel Hull
Set Format
Hull Buddy Offers:

1 x 60 Minute Buddy Holly Tribute
Or
1 x 60 Minute Buddy Holly Tribute
Plus
1 x 30 Minute 50s & 60s Covers
Or
1 x 45 Minute Buddy Holly Tribute
Plus
1 x 45 Minutes 50s & 60s Covers