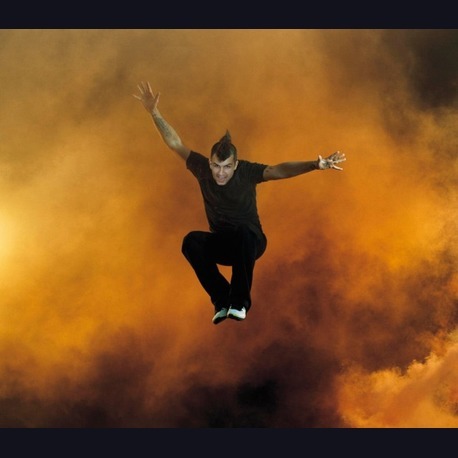 Let Me Entertain You
Angels
Have You Met Miss Jones
He's The One is a fun, energetic show dedicated to the sheer brilliance that is Robbie Williams, executed with point blank accuracy by the uniquely talented Lee Pashley.

Already an established vocalist in his own right, Lee Pashley relives the magic and essence that is Robbie. His breathtaking tribute combines Robbie's trademark arrogance with his own natural humour. Lee gives an electrifying stage performance which shakes the audience to the core and leaves them aching for more.

Lee has been touring the UK, regularly singing to ecstatic crowds who can't believe the vocal excellence of his portrayal. Lee is often asked if he mimes to the real thing - a compliment indeed!
Shortlist
---
Price Guide
For an approximate quote, please enter your postcode:
Song List
Let Me Entertain You
Something Beautiful
Come Undone
Feel
Strong
Shes The One
Rock Dj
Angels
Have You Met Miss Jones
Mr Bojangles
Aint That A Kick In The Head
We Will Rock You
Monsoon
Old Before I Die
Tripping
Advertising Space
Love Supreme
Millennium
Radio
And Many More!
Previous Clients
BBCRadio 2
ITV
Sky
Jumping Jacks
Hilton Hotels
JCB
Raf Conninsby
Orsett Hall Hotel
Grosvenor Casino
Gala Bingo
Ramada Hotel
Hilton Norwich
The Beaufort Hotel Ormskirk
Southampton University
The Road House Covent Garden
Tiger Tiger Portsmouth
Butlins
Stringfellows
Whittelbury Hall
The Nursary Restaurant
The Orchid Spot
The Beachcomber
Waterside Holiday Park
Halkers Sports And Social Bolton
Vauxhall Holiday Park
Ocean Village Cruise Ship
George Washington Hotel
Rifles Enfield
Bar B Blackpool
Lynroys Restaurant
Millers Hotel
Great Bentley Country Park
David Lloyd
Creation Nightclub Swansea
Richmond Holiday Park Skegness
Altrincham Christmas Lights Turn On
Mackworth Hotel
Carlton Hotel Edinburgh
Harlow Sports Centre
South Shields Christmas Lights Turn On
Holiday Inn Brighouse
Pulman Lodge Sunderland
Harry Ramsdens
Quality Hotel Derby
West Lodge Hotel Essex
Flamingos Nightclub Blackpool
Rendezvous Casino
The Corn Exchange Edinburgh
Alexander Hotel
Scarisbrick Hotel Southport
Alexandra Theatre
And Many More!
Testimonials
"Hi, just wanted to say I had a fantastic night watching your show! It truly was a great night out and I now feel like I dont have to see the Man himself!!
If I ever get married, I'll be booking you! Keep up the good work, and you have an amazing voice."
- Michelle Morley

"What a great night we had at The Drum and Monkey in Clevedon on monday night. I Lost my husband to cancer last month, I have five children under the age of fourteen and my friends decided to take me out for the evening. I had a great evening even though i made a fool of myself by getting up and dancing with you. Have been to quite a few robbie tribute bands and am off to see the real thing in Milton Keynes, but you are the best I have seen. Hope to see you soon when you are next playing in the area keep me informed. Many thanks again for a great night."
- Stella

Dear Lee,
Just a note to say thank you for making my wedding so very special. Singing in the service really made a difference, and many guests commented on what a great atmosphere there was at the wedding. Many of my friends just loved the live music especially being a Robbie Williams tribute. I am sure you will receive lots of bookings and hope the TV cameras didn't get in your way too much. Thanks again for making my day a wedding with a difference. Love from
- Jacquie and Barry Lieberman

Dear Lee,
I just wanted to thank you for making a family party truly "go with a swing". I have to say that you were extremely professional and gave a 110% performance and absolutely got the party bubbling away. I understand that it was quite difficult to perform after the guests had only just eaten but you carried it all off with total ease. The response you got from everyone was fantastic and the hosts were delighted with your performance. Personally, I would have no hesitation recommending you for any event. You're talent for reading the audience and getting everyone on their feet was quite a marvel to see. You certainly DID ENTERTAIN US!!!! With kind regards,
- Jane Purvis

Robbie Williams Tribute for Mr and Mrs Wainwright Wedding Reception May I take this opportunity to thanks everyone for their company and kind gifts on the most special day of my life when Tina and I got married at Mawdsleys Hotel. Special thanks also to Lee Pashley and his band for his amazing Robbie tribute and showed why he is the UK's number 1 Robbie impersonator. Thanks also to all the pipes who made it to my stag do to give me a night to remember!! Thank you for a wonderful night!
- Mr and Mrs Wainwright

Dear Lee
Many thanks for a spectacular performance on Friday 3rd February 2006. You had our guests under your spell from the moment you walked in. A truly excellent performance, thanks a million!! Best regards
- The management and staff of The Adelphi Hotel, Liverpool
Set Formats
He's The One Offer:

1 x 60 Minute Set