The Official Green Day Tribute Band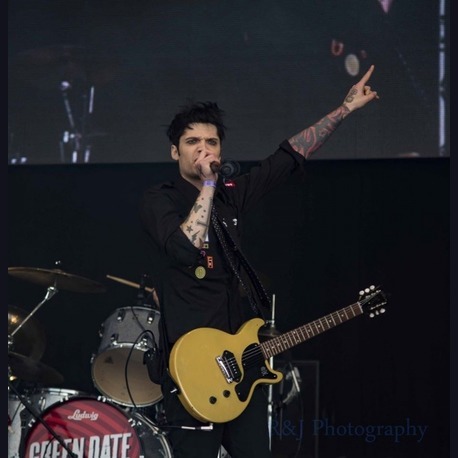 21 Guns
Good Riddance
St Jimmy (Live)
Green Date are the Official Green Day Tribute Band. Based in Mansfield Nottinghamshire, and been on the circuit for over 10 years.

These Guys have performed Las Vegas many times to over 50,000 people a time. With other performances in the likes of Bahrain, Dubia, New York, Italy, Athens to just name a few.

This is a show not to be missed, regulars at the UK's Best Music Festivals such as Glastonbudget, Tribfest and more, these guys offer the Ultimate Green Day Experience.

Dont just take there word for it, They even have the thumbs up from the real deal!

With regular features in UK press such as Kerrang, NME, The Times, The Sun to name a few you cant get better than this!
Shortlist
---
Price Guide
For an approximate quote, please enter your postcode:
Song List
Know Your Enemy
Holiday
Longview
She
Welcome To Paradise
Bang Bang
Hitchin A Ride
Stop When The Red Lights Flash
St Jimmy
Waiting
When I Come Around
Brainstew
Basket Case
Let Yourself Go
Whatsername
Revolution Radio
Jesus Of Suburbia
East Jesus Knowhere
Letterbomb
King For A Day
Boulevard Of Broken Dreams
Wake Me Up When September Ends
Ordinary World
Time Of Your Life
Still Breathing
American Idiot
Minority
And Many More!
Previous Clients
Fremont Street Experience, Las Vegas, Nevada, Usa
Glastonbudget
Tribfest
Fake Festivals
Butlins
O2 Academys
Nit Durgapur, India
And Many More!
Testimonials
"The Best Tribute Band on the Planet!
- Kerrang

"We couldnt get green day to please the 50,000 Fans so we got Green Date"
- Fremont Street Las Vegas

"Love There DVD"
- Billie Joe Armstrong "Green Day

"One of our biggest Draws"
- Dean Spain - Butlins
Set Formats
Green Date Offer:

1 x 60 Minute Set
Or
2 x 45 Minute Sets